Financial Capability Insights: What the NFCS Reveals
Using data from various waves of the FINRA Foundation's National Financial Capability Study (NFCS), these research studies explore different aspects of financial capability and how these vary across key populations in the United States.
Featured Studies
The Financial Capability of United States Military Veterans: The Role of Gender and Racial/Ethnic Identity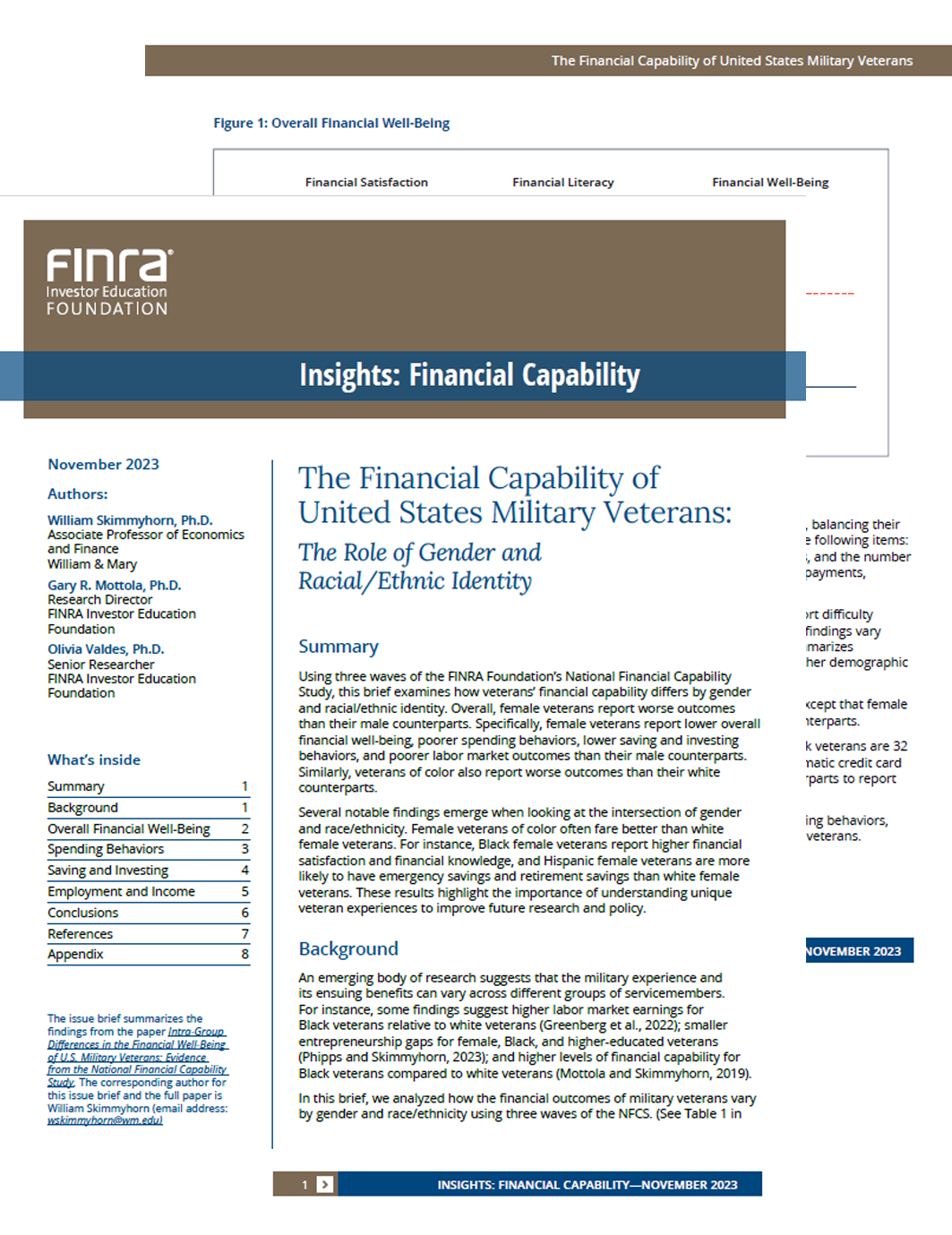 This study uses data from the 2015, 2018 and 2021 NFCS to examine differences in Veterans' financial capability by gender and racial/ethnic identity. The findings suggest that while female veterans and veterans of color report poorer financial outcomes than their respective male and white counterparts, differences within the female veteran population are less pronounced. In fact, the financial capability of female veterans of color is equal or in a few cases better than that of white female veterans.
How Much Are You Paying? What You Know (Or Think You Know) About Investing May Play a Role in How Much You Pay in Investment Fees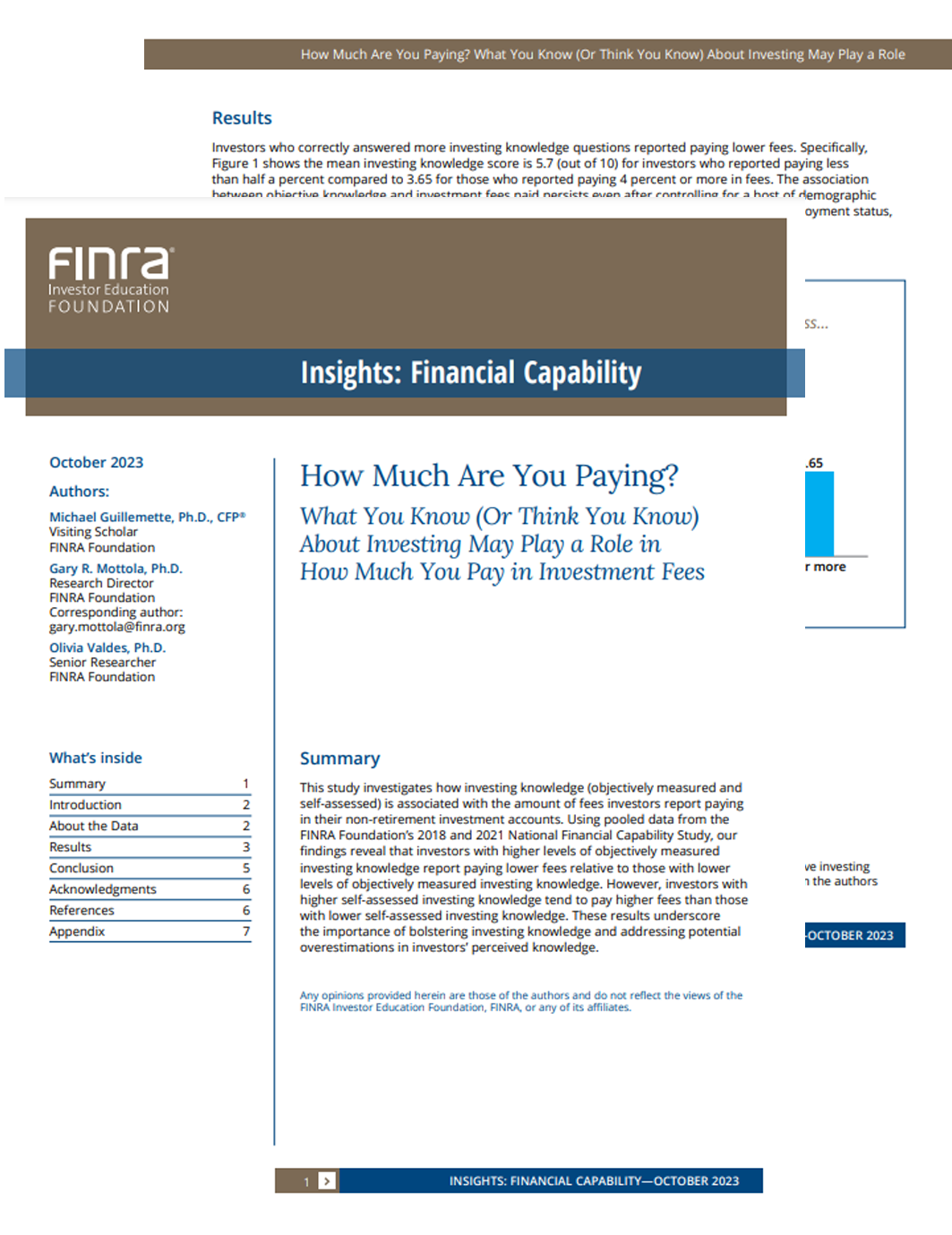 This study uses data from the 2021 NFCS Investor Study to examine the association between investors' knowledge about investing (both objective and self-rated) and the amount they pay in fees. The findings suggest that investors with higher objective knowledge tend to pay lower investing fees, while those with higher self-rated knowledge tend to pay higher fees.
Hidden Disparities: A Closer Look at the Financial Vulnerability of AAPI Adults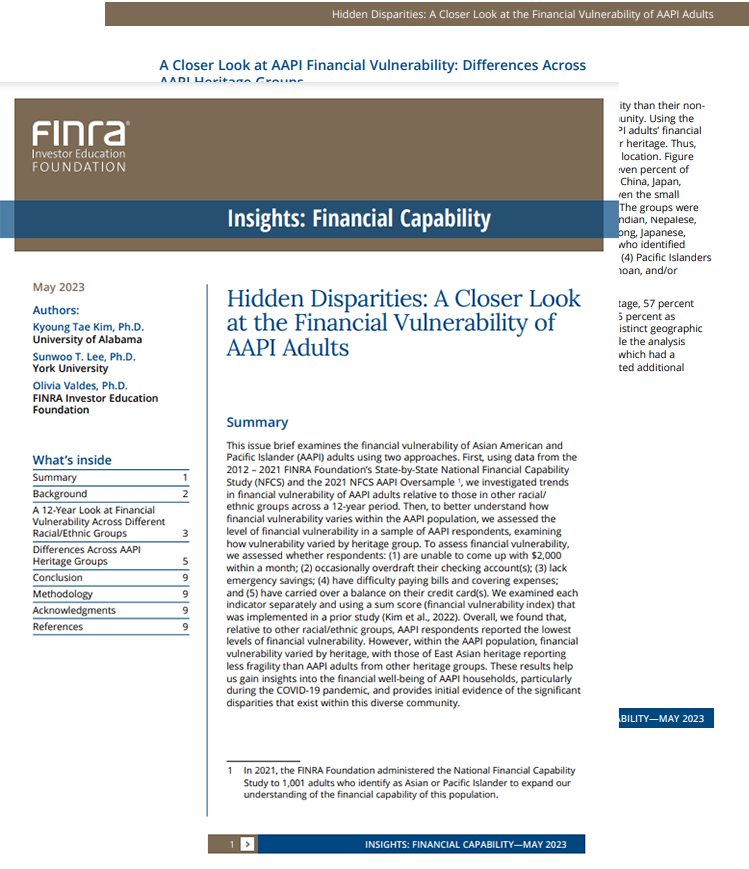 This study uses data from the NFCS to examine the financial vulnerability of AAPI adults, in the aggregate and across different heritages within the AAPI population. The findings suggest that wide disparities in financial vulnerability are found in different heritage groups.
Why Is Measured Financial Literacy Declining and What Does It Mean? Maybe We Just "Don't Know."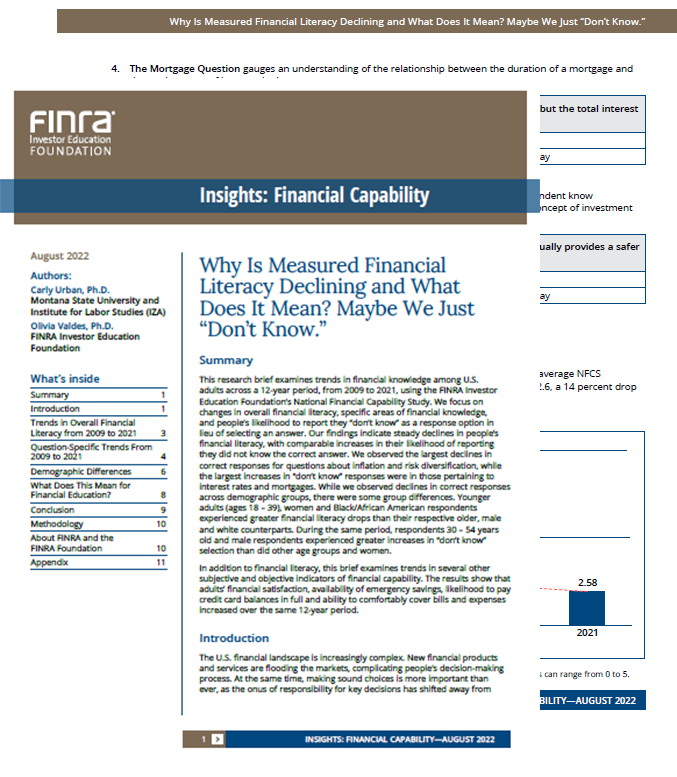 This research examines data from the 2009 to 2018 waves of the National Capability Study to examine trends in financial literacy. The findings indicated that measured financial literacy declined over the 12-year period. Most of the decline resulted from a rise in respondents reporting they "don't know" the answers to the underlying questions. The study also found that despite declines in measured financial literacy, several indicators of financial capability improved over the same period.
Bridging the Divide: A Closer Look at Changes in the Racial and Ethnic Composition of Investor Households (2021)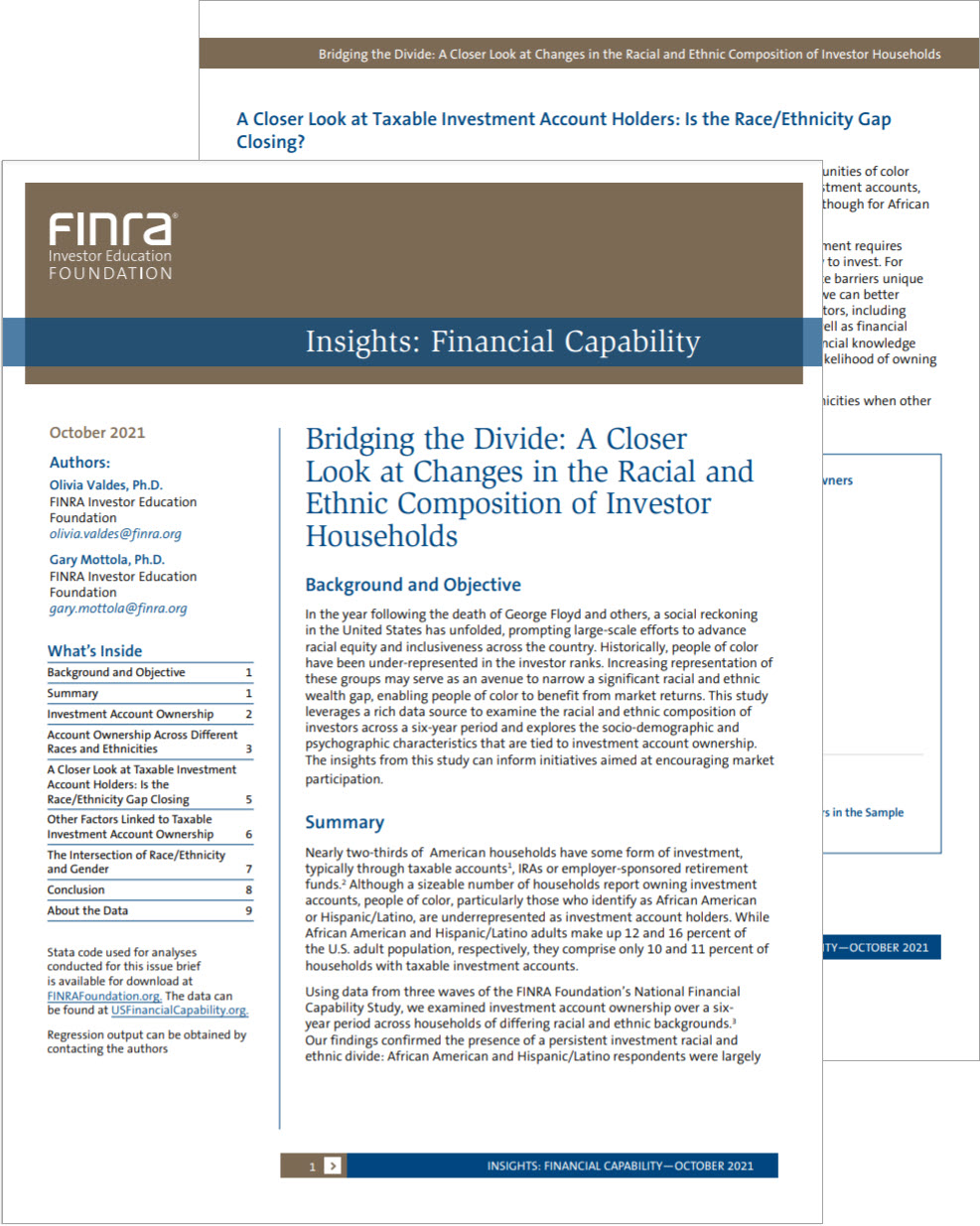 This issue brief explores the racial and ethnic composition of investors over a six-year period, from 2012 to 2018. The findings suggest that African American and Hispanic/Latino adults continue to be under-represented in the investor ranks. However, after controlling for sociodemographic variables, the gap in the likelihood of owning a taxable investment account between white and African American and Hispanic/Latino adults closes substantially. However, troubling gaps remain, with the likelihood of African American and Hispanic/Latina women owning a taxable investment account much lower than that of white men.
What We Leave Behind: Financial Education and Estate Planning (2021)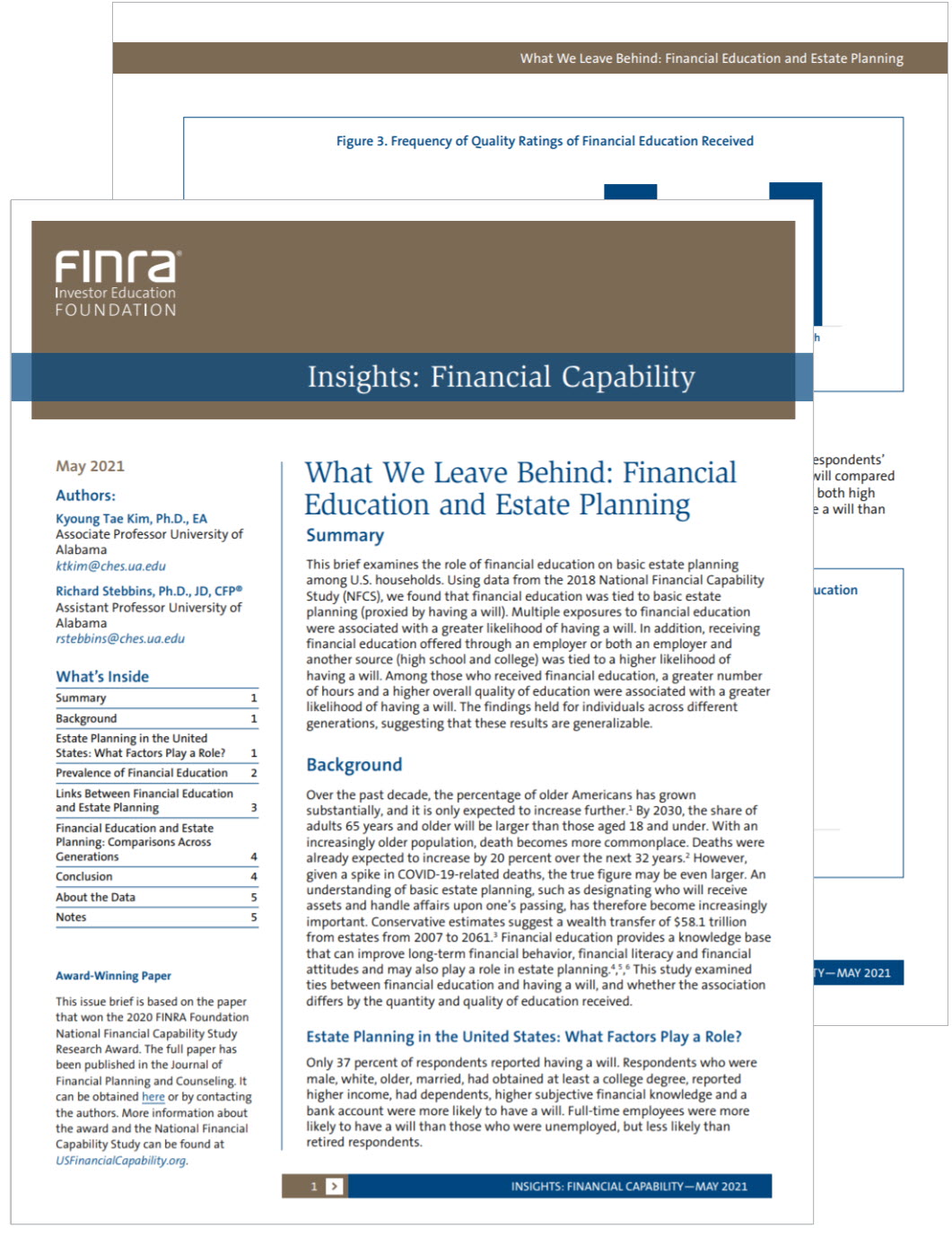 This brief by 2020 NFCS Research Award winner Dr. Richard Stebbins and co-author Dr. Kyoung Tae Kim, both from the University of Alabama, relies on data from the 2018 NFCS to examine the association between financial education and basic estate planning. The findings indicated that more and better-quality financial education is associated with a greater likelihood of having a will.
Financial Anxiety and Stress Among U.S. Adults: New Evidence from a National Survey and Focus Groups (2021)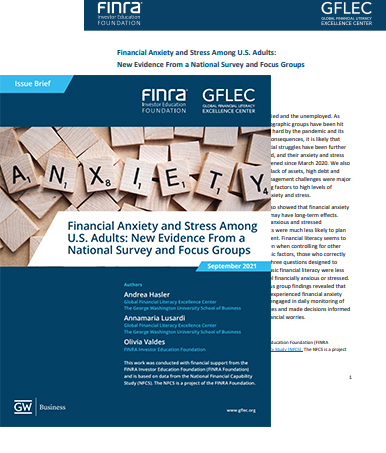 This study from the Global Financial Literacy Excellence Center (GFLEC) and the FINRA Foundation found that a large share of U.S adults feel stress and anxiety in relation to their personal finances. The study used findings from the 2018 NFCS paired with focus group discussions from late 2020. Financial stress and anxiety were prominent in women, younger adults, those with lower-incomes, and individuals with low levels of financial literacy.
Financial Resilience (2021)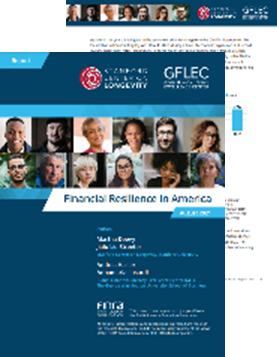 This study, conducted through a Foundation research grant, partially used 2009–2018 NFCS data to examine changes in U.S. adults' financial resilience since the 2008 Great Recession. The findings indicated that while resilience has increased, many are still ill-positioned to withstand a financial shock, with more financially vulnerable subpopulations being most affected. It also found that income/cash flow management, debt management, risk protection, and financial literacy were each associated with financial resilience.
Bouncing Back? The Financial Resilience of Americans (2021)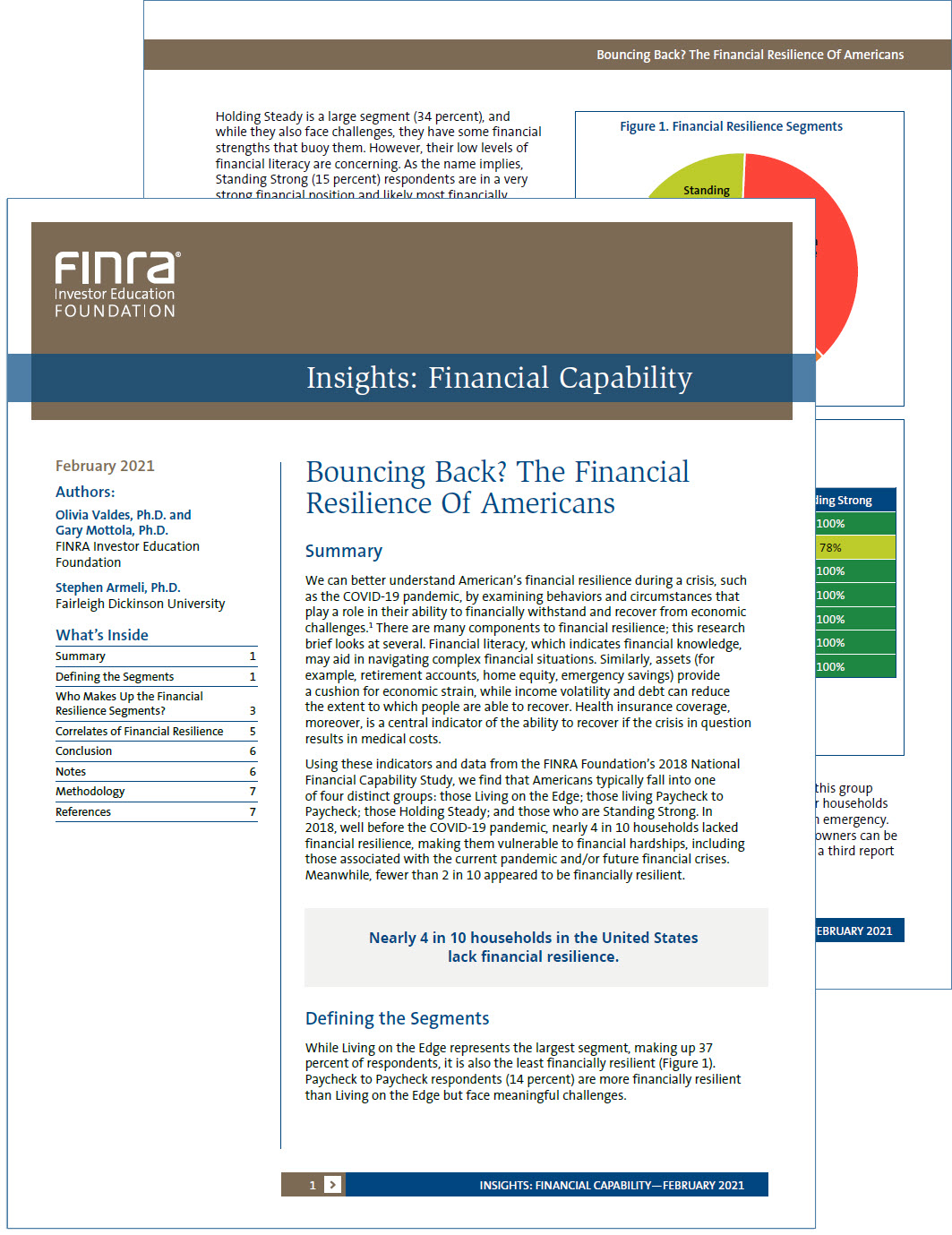 This research from 2018 shows that Americans typically fall into one of four distinct groups of financial resilience: those Living on the Edge; those living Paycheck to Paycheck; those Holding Steady; and those who are Standing Strong. Nearly 4 in 10 households lacked financial resilience, while fewer than 2 in 10 appeared to be financially resilient.
More Research Using NFCS Data
Does State-Mandated Financial Education Affect High-Cost Borrowing?
Young adults who are required to take personal finance courses in high school are significantly less likely to borrow payday loans than their peers who were not. (2019)
Gender, Generation and Financial Knowledge: A Six-Year Perspective
Explore how financial knowledge in the U.S. changed over a six-year period, for men and women, and across generations. (2018)
Financial Capability of Adults with Disabilities
Learn how the financial capability of working-age adults with disabilities differs from that of individuals without disabilities on key components of financial capability. (2017)
The Financial Welfare of Veteran Households
After controlling for key demographic variables, veterans have slightly better financial outcomes than non-veterans, but there are some areas where veterans could improve. (2017)
Race and Financial Capability in America: Understanding the Native American Experience
Explore how financial capability varies by race and ethnicity, with a focus on Native Americans. (2017)
A Snapshot of Investor Households in America
Learn what sets apart households in the United States who own taxable investments. (2015)
American Renters and Financial Fragility
Explore how renters differ from homeowners - demographically, behaviorally, and psychographically. (2014)